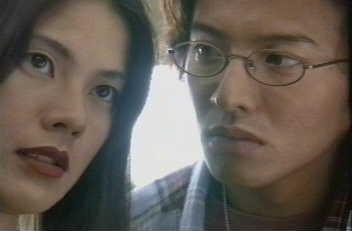 Konya wa Eigyouchu atau yang judul Inggris-nya Open 24 Hours, emang termasuk dorama yang nggak terkenal, apalagi cuman 1 episode.
Uniknya, dorama ini campuran dari drama, talk show, candid camera, parodi dgn humor slapstick & humor komikal(yg kadang2 sampe gak masuk akal =P). Dorama ini bener2 "satu2"nya, deh...karena campuran dari genre2 tadi! Bahkan udah gak jelas lagi, bentuknya apa, dorama atau bukan =P Adegan2 konyol dan kocak emang cuman muncul sesekali, tapi sekalinya muncul, bisa sampe ketawa ngakak saking gilanya!!^^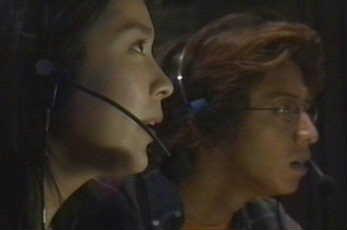 Adegan bareng Takuya Kimura & Takako Matsu cuman ada 2, sekaligus emang cuman di 2 adegan itu doang, Takako muncul^^ Takuya jadi sutradara acara dan Takako jadi time-recordernya, entah kenapa, kerasa aja kalo mereka juga jadi partner-an disini!!^^ Asik liat mereka bekerjasama pas acara siaran langsungnya mau dimulai. Salah satu adegan favorit gue, adegan di lift waktu Takuya & Takako ngobrol2 lucu!!(hehe...so pasti-laah..)




Article
Not Your Ordinary Drama
What Kind of Happenings to Expect?
(from Junon magazine - September 1999 - translated by Nina)
Wearing glasses and sporting a name tag reading "Muragi Takuya" (his last name kanji are reversed) it's hard to distinguish Kimura Takuya of Smap from just another one of the staff members working at Nihon Television. However, this guise as part of his character in Konya wa.. leads one to wonder the very nature of his new role.
The 1 hour and a half Konya.. which is called a dorama, but at the same time reflects aspects of a variety show, and a music show stars Kimura alongside veteran Tamori. Tamori, whose character is appropriately name "Morita" (name reversed, just as Kimura) plays a producer working for Nihon Television, and the dorama starts when he meets Muragi, a director also working for Nihon Television. The two decide to collaborate on a new show, and when deciding who to cast, the first name Morita offers is "Kimura Takuya" and Muragi suggests "Tamori". The other staff agree that if Morita and Muragi can get the two "big stars" to sign to host the show, then it'll be passed.
Therefore, Kimura and Tamori are both people with double roles in this, at times very amusing drama. In their roles as Muragi and Morita, they travel off to the sports/dorama/music worlds in order to try to sign celebrities to appear on their show. These times also reflects elements of variety shows/ candid camera as the stars they talk to are fully aware of the identity of these "Nihon Television staff members". Even when some of them realise and ask "Kimura, what are you doing?", he maintains his role by replying "I'm sorry, but I'm Muragi, the director".
When it comes time for the show within the show to air, Tamori playing flute and trumpet, Kimura playing guitar and piano, enters the music show aspect. Their jamming session reflects the mature aspect of the two, as if offering a break from the previous humourous nature.
This show truly offers both actors a rare type of experience in comparison to "regular" dorama series. When Kimura was asked about what he thought of the whole experience, "I've worked with Tamori before, and had apportunities to act and experience a lot, but this show was unique. When I was acting as the staff member, I really ended up feeling like I was working with them, and not simply just acting. But the best moment so far was when I was dressed as my character and was walking through the studio holding a script when an actor (talent) came up to me, bowed and gave me a formal greeting. He had mistaken me for the director."
The viewers are given the chance to see the celebrity studded world of doramas from the director's chair. From that view point one can also see Kimura Takuya aka Muragi with roles that make one truly question - how much of what appears on television is really acting..?
Synopsis
Konya wa ..is about 2 television producers Muragi & Morita trying to produce this variety program. They decided to get these 2 big names - Kimura Takuya and Tamori-san to appear in the show. Given the green light to do so by the boss, they then go off to get celebrities for the show and conduct auditions for the extras to appear in the show. (This is when the candid camera bit comes on - it's AMAZING to see how people react to seeing Kimura on the street, even though he tries to act nonchalant, trying to have a cup of coffee on some café sidewalk just like a normal person. One musician Muragi tries to get on the show ends up singing Smap song "Yozora no Mokou" - and we could hear giggling sounds while Muragi's talking to him. A girl swooon during the audition the moment she recognised Muragi is actually Kimura Takuya - then again, who wouldn't?)
After much hardship, whaddayaknow - Kimura & Tamori do appear in the show.
Bank robbery comedy sketch
Even for someone with limited Japanese vocabs like me, I find this sketch hilarious! Kimura plays a bank robber, trying desperately to rob a bank in New York, while Tamori plays the bank manager, who unwittingly manages to ward off the bank robber because they keep getting people speaking in languages they both don't understand over the phone while trying to make demands for the bank robber! The funniest bits have got to be when Kimura (aka bank robber) noticed this girl (bank staff) and says "Have I seen you somewhere before..?" and asks her to spin around - actually this girl was featured earlier when she "auditioned" for Muragi & Morita and she recognised Kimura (as Muragi) right away during the audition and went into a swooooooooon!! Thank heavens she managed to get a part in the drama anyway! ^o~ ...also when the bank robber tries to teach the ladies to sit demurely when he orders all of them to sit on the floor. A bank robber with manners! Imagine! ^o^
8 ball talk
Kimura & Tamori play this game as themselves. I don't know whether we can call it "billiard" or "snooker" but the game is similar to that, except the balls all have "instructions" written on them. Whoever manages to shoot a ball into the "pocket" can ask the other to do what's being written on the ball. I don't think this scene is scripted, so everything is spontaneous:

Tamori gets to shoot the ball first - so Kimura's the first "victim". I don't really know what he's told to do, but somehow they both start talking about Esumi Makiko-san who also appears in Konya. Kimura's commenting on the "shortness" of her skirt and of how "dangerous" it is! It's true - because the skirt is curved downwards on the front and curved upwards (!) on the back! It's awfully FUNNY seeing Kimura immitating Esumi-san's postures when checking monitors during filming of the drama and of how she has to put her legs together when crouching/squatting down!! Naughty….naughty Kimura, ne! *o*
Then Kimura shoots a ball into a pocket and Tamori has to tell a secret. Kimura is kind enough to save him from much embarrassment by telling him that Tamori only has to tell him (Kimura) the secret - not to the whole tv crew! So they end up whispering while Kimura doing the "tuuuuuuutttt.."-ing bit to make sure some microphone won't pick up what's being whispered!
Kimura shoots the ball again and Tamori has to tell us about the woman he likes - some veteran actress probably judging by the pix shown. The funny thing is Kimura then starts telling us about the one he likes too when prompted by Tamori. He says the woman who makes him nervous is Yamaguchi Tomoko-san (Minami in Long Vacation). Lucky girl! ..and goes on telling about when they were filming L/Vac together - doing the reading, how she acknowledged him by going "Yoh!" and he felt like he was being hit by a wave!! Tee-hee-hee… he sure has a soft spot for Y.Tomoko, ne..! After relating the whole thing, he then realised that he didn't have to say anything regarding this topic since he was the one who shot the ball in the pocket! :D
I don't know what the instruction on the ball says this time - but the talk turns into Kimura's commercial (CM) advertisement. We get to see the SHY part of Kimura during this bit - and I lurrrve it! Tamori was commenting and immitating Kimura's part in the CM. At first, Kimura tries to pretend like he doesn't understand and steers the conversation away - but no, Tamori won't let him get away that easy! Tamori goes on saying about Kimura being dubbed "The Coolest Man in Japan" (Nihon ichiban kakkoii) which really makes Kimura feel shy…he tries in vain to hide behind a pillar! A shy Kimura - I wouldn't have been able to imagine it myself!

Jamming session
Then Kimura & Tamori get involved in some jamming session together. (I lurrrrve seeing Kimura singing in English - it's soooo refreshing to see him uttering words we can understand right away..!)
After which the program wraps up.

by F-chan(thank you sooo much!! you're Kimura's #1 fan!!^^)

Screencaps