Takako Matsu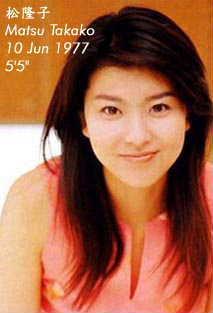 Profile
Real Name : Fujima Takako
Birth : Tokyo, June 10th, 1977
Height : 166 cm
Blood Type : A
Talents : Play piano, Japanese traditional dance
Hobby : Taking photographs, act in a stage play, drive car
The actress who portrayed the blind girl in a drama entitled The Storehouse of Dream, was actually born in artist family, with her father, the famous Kabuki player, Matsumoto Koushiro, which also inherited to his older brother, Ichikawa Somegorou. Even her older sister is also a stage theatre actress, Matsumoto Kiho. But, all that didn't make her automatically as a big star. Ever since, she's a little kid, she is used to see his father acting and dancing. Japanese traditional music instruments are also familiar for her since little. Since that time, Takako starts to learn dancing and play the piano. Before she reach 17, Takako have already played in a stage play, Ninjoubanashibun Nanamotoyui, followed by her debut in the drama television worls Hana no Ran in NHK channel. By the time she performed in public, Takako decided to use a new stage name. She took the first syllable of her father's family name, and that's when Matsu Takako appear.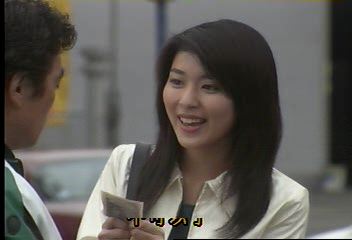 Since she is more interested in stage dramas, then she got through lots of experience for two years in various of musical dramas, includes acted as Antonia in La Mancha no Otoko and Ophelia in the famous drama, Hamlet.
In 1996, Takako guest-starred in Furuhata Ninsaburou, a criminal mystery drama which consists lots of famous stars. And then followed by her appearance in the drama, Long Vacation, along with Kimura Takuya and Yamaguchi Tomoko. She acted the character, Okuzawa Ryoko, very well, she even successed enough to make viewers feel antipathy to her.
In late 1996, Takako was also starred in Konna Watashi ni Dare ga Shita, a not-too-successful comedy drama. And after other few dramas, in mid-1997, Takako appeared in Hitotsu Yane no Shita 2(Under The Same Roof 2) as Mochizuki Miki.
However, what shot her to stardom, is when Takako appeared as Uesugi Riko co-starring with Kimura Takuya in Love Generation. This drama is one of the most successful drama, they even made the special episode. Then after that, Takako almost always get the leading role in every drama she starred in. In Jinbee, she played with Masakazu Tamura who acted as her step father. While in Konya wa Eigyouchu(Business Is Still Running Tonight), Takako was paired again with Kimura Takuya.
Begin the year 2000 ago, Takako starred a drama, Omiai Kekkon on Fuji TV. This time, she was paired with Santamaria Yusuke. The drama have a very unique romantic story. Setsuko Nakatani(Takako) quit her job as a stewardess to marry her boyfriend. But, her parents do not approve her marriage with that man, they even introduce Setsuko to another man, Hirose(Yusuke).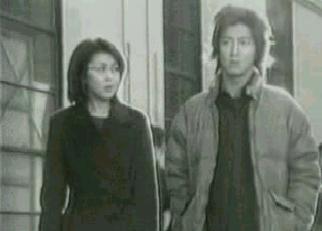 After the last one, Takako starred in the most successful drama, HERO, again with Takuya, then in the upcoming August 27th, this talented actress will entertain the viewers again in her latest drama entitled Akarui Hou E, Akarui Hou E. Different with her other dramas, this one took settings in 1930s. And this time Takako co-starred with Miyake 'V6' Ken, who played as her younger brother.
Besides that, she will also be very busy practicing for a stage drama, Setsuan no Zennin in September in Tokyo and Osaka. Here, she will act two characters, Shen Te and Shui Ta. She also have to prepare her first concert entitled Matsu Takako 1st Concert Tour, in Oct 24th - Nov 19th in several cities : Tokyo, Osaka, Kanagawa, Sendai, Aizawa, Fukuoka, dan Niigata.
© ANIMONSTER All Rights Reserved